CNF Imaging Workshop
From crtc.cs.odu.edu
Overview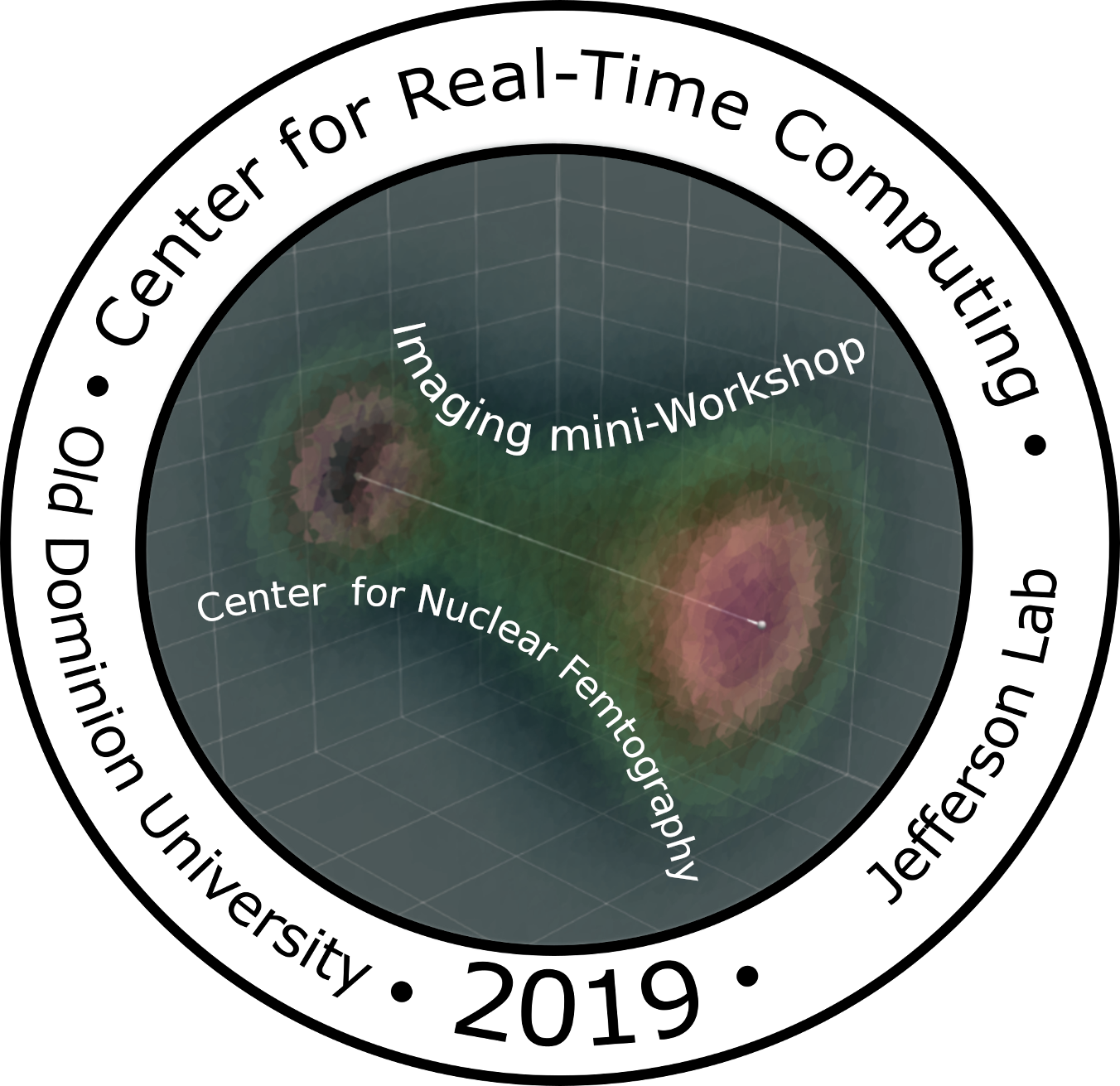 Next generation Imaging for Nuclear Femtography is in its very early stages. The complexity from seven-dimensional data and many scales and levels of interactions between the colliding particles and what is observed create many challenges. To address these challenges the "Next-generation imaging filters and mesh-based data representation for phase-space calculations in nuclear femtography (CNF19-04)" project proposed to put together an interdisciplinary team to:
leverage advanced computational methods and software design approaches from medical imaging for processing phase space distributions in nuclear femtography experiments, with the long term aim to enable next-generation process simulations, data analyses, and physics model comparisons and
organize a mini-workshop that will: (a) bring world-wide leaders from Imaging in Health Care and (b) nation- and state-wide experts in transferring technology to industry in VA.
Two of the most advanced groups world-wide in Medical Image Computing and Image Guided Neurosurgery are in Brigham and Women's Hospital (BWH), Harvard Medical School. Namely the Surgical Planning Laboratory (SPL) lead by Dr. Ron Kikinis and Image Guided Neurosurgery (IGNS) Laboratory lead by Dr. Alexandra Golby.
Monday, August 19, the objective is to focus on Lessons Learned from Medical Image Computing at SPL and IGNS at Harvard; together both labs have more than 40 years of experience and many 100's of person-years of accumulated research.
Job creation and transfer of technology to industry is as crucial for sustaining basic research as the quality of research in general and specifically in Nuclear Femtography. However, nurturing and flexibility as it is demonstrated at the Institute for Advanced Study at Princeton and argued in the "Usefulness of Useless Knowledge"[1] is required.
Tuesday, August 20 the objective is to focus on Lessons Learned form empirical evidence, address economic strengths and weaknesses of various approaches to generating inventions and innovations, in part address intellectual property and protection --a key part of the process for job creation-- and focus on VA ecosystem, state-based incentives and programs for innovation. Tuesday's discussion will be lead by Prof. James Koch. Mr. James Cheng and Dr. Steve Pieper.
The CNF Imaging Workshop expected to be highly interactive as participants will transfer know-how from the medical imaging community to basic physics in this case nuclear femtography.
The tessellation data in figure (above) depict a spatial distribution of up quarks as a function of proton's momentum fraction carried by those quarks; bX and bY, spatial coordinates (in 1/GeV = 0.197 fm) defined in a plane perpendicular to the nucleon's motion, x is the fraction of proton's momentum and color denotes probability density for finding a quark at given (bX, bY, x). These preliminary data are generated by Dr. Sznajder and processed/tessellated with CRTC's CNF_I2M tool. Their visualization is accomplished by Dr. Gavalian using Paraview.
Schedule
August 19: (Discuss lessons learned from the medical imaging discipline)
Morning Session: 9:30AM to 12:30 (Chair: Christian)

Welcome and Logistics for the workshop (Nikos): 9:30AM to 9:40AM
Introduction to Jefferson Lab (Bob): 9:40AM to 9:55AM
Brief review of CoS at ODU's efforts with CNF Initiative (Gail): 9:55AM to 10:10AM
Introduction to Center for Nuclear Femtography (David): 10:10AM to 10:25AM
Imaging subnuclear systems: Concepts, objectives, applications (Christian): 10:25AM to 10:45AM
External Speakers: Ron Kikinis and Alexandra Golby: 10:45AM to 12:30PM
Lunch Break: 12:30PM to 1:30PM
Afternoon Session: 1:30PM to 3:45PM (Chair: Gagik)

Focus on software design and building an ecosystem and community around 3D Slicer
External Speakers:Tina Kapur, Steve Pieper, and Andrey Fedorov
August 20: Broader Impact to the Community
Morning BoF Session : 10:30AM to 12:00PM (Chair: Nikos)

Focus on Empirical Data and Lessons Learned on Innovation broadly and more specifically in VA.
External Speakers: James Koch, James Cheng and Steve Pieper
Lunch Break: 12:00 to 1:30PM
Afternoon Session: 1:30PM to 3:30PM (Chair: Christos/Nikos)

Focus on JLAB projects with concrete examples on imaging CNF data

Experimental Physicist's Point of View on Imaging for Nuclear Femtography (Gagik): 1:30PM to 2:00PM
Discussion Moving Forward (Open to all attendees and to be moderated by Nikos): 2:00PM to 3:30PM
Registration
Register here: https://cnf_imaging_workshop.eventbrite.com
Presenters
External Visitors
Dr. Ron Kikinis
Dr. Alexandra Golby
Mr. James Cheng
Dr. Tina Kapur
Dr. Steve Pieper
Dr. Andrey Fedorov
ODU/JLAB
James Koch
Gail Dodge
Robert McKeown
David Richards
Latifa Elouadrhiri
Gagik Gavalian
Data created with by combining PODM with PATRONS